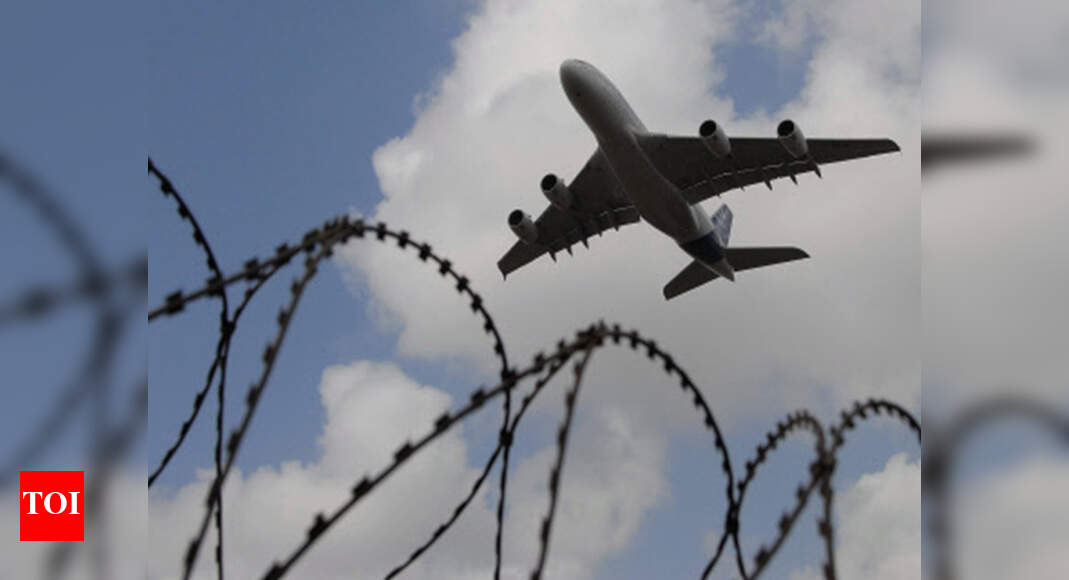 CHENNAI: Flying between Chennai and destinations in Australia, New Zealand, Japan and Singapore has become a hassle and expensive due to absence of 'air bubble' flights.
Fewer flights and restriction on the number of passengers allowed have made the airfare expensive. One-way air fares to Australia for travel next month are in the range of Rs 1.4 lakh to 1.6 lakh. It cost Rs 35,000 to Rs 40,000 in the pre-Covid-19 days. One-way air fare to Tokyo is Rs 80,000 over triple its cost of Rs 25,000 pre-pandemic.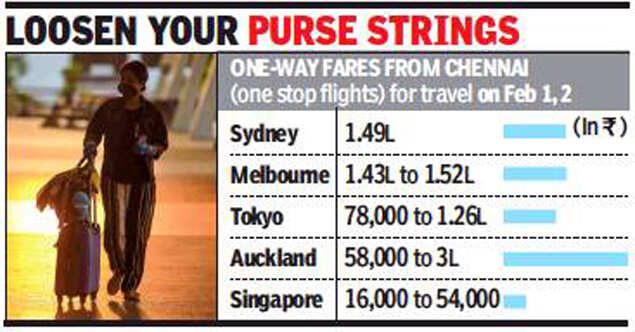 An airline official said airlines are allowed to take in only 50 to 60 passengers on aircraft with capacity of more than 150 to 200 passengers, to any destination across the world, to prevent spread of the new strain of the virus."
"This makes it difficult for people to get tickets via transit hubs such as Dubai because the flights from Chenni to Dubai will already be full," said Basheer Ahmed, of Metro Travels.
Passengers wanting to reach Australia, New Zealand, Japan also have to either depend on Vande Bharat evacuation flights or to fly via Dubai or Hong Kong, which is expensive and time consuming. There are fewer flights between Chennai and Hong Kong as well. Those who flew down to Chennai a few months ago want to return to Australia and New Zealand.
Ahmed said steady demand from Chennai to Australia and Japan have driven up ticket costs. "People have to fly on Vande Bharat flights from Delhi or fly via Dubai. Flying via Singapore and Hong Kong have been ruled out as there are no 'air bubble' flights to the cities. There is high demand for tickets to Sydney, Melbourne and Tokyo from Chennai. This has caused the air fares to shoot up. Flying to the cities is costlier than flying to the US." He added that travel and tour operators have been urging the government to start 'air bubble' flights to these countries.
When asked about it, an airline official said the new strain of Covid-19 detected has deferred prospects of new air bubble routes. "There was a plan to introduce 'air bubble' flights from Chennai and other cities to Singapore and Australia. But because of developments after the new strain was detected, the plan has not taken off."


Source
Tripsy.lk – Best Travel Agent in Sri Lanka
With Tripsy you can search and book flights, hotels from around the world with cheapest rates. We search and compare rates from hundreds of sites and show you the best offers to make your booking. We offer hotel and flight deals from all parts of the world. Tripsy.lk is your low fare travel agency. You can also get your travel insurance online with Tripsy in minutes. We have Getaway deals and you can find most popular destinations from Colombo.
Some of the major airlines you can book with us:
Aero Mexico, Air Astana, Air Baltic, Air Berlin, Air France, Air India, Air Mauritius, Air New Zealand, Air Tahiti Nui, Alitalia, Avianca, Bangkok Airways, British Airways, Cathay Pacific, China Airlines, China Southern, Copa Airlines, Delta Airlines, Drukair, El Al Israel Airlines, Emirates, Ethiopian Airlines, Etihad Airways, Eva Airways, Fiji Airways, Fly Dubai, Flybe, Gulf Air, Hainan Airlines, Iceland Air, Japan Airlines, Jet Airways, JetStar Airways, Korean Air, Lan Airlines, Lufthansa, Malaysia Airlines, Maldivian Airlines, Myanmar Air, Oman Air, Philippine Airlines , Polish Airlines, Qatar Airways, Qantas Airways, Royal Brunei Airlines, Royal Dutch Airlines, Royal Jordanian, S7 Airlines, Scandinavian Airlines SAS, Singapore Airlines, South African Airways, Srilankan Airlines, Tam Airlines, Tap Air Portugal, Thai Airways, Turkish Airlines, Ukraine Airlines, Virgin Australia